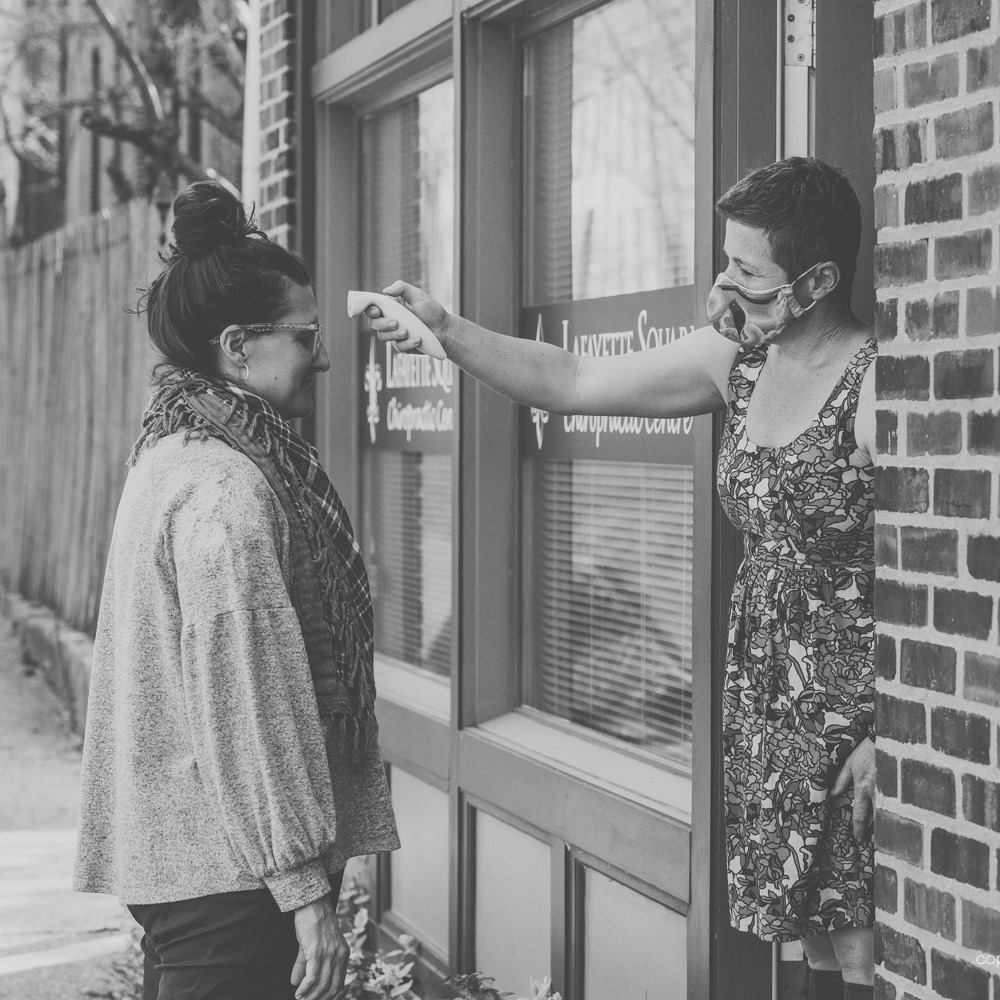 (left to right: Kara Keserauskis & April Breeden Peairs)
Photo Credit: www.abbietakespictures.com
"How does it feel to re-open?"
It is a question our team members are asked often lately.
The truth is, we don't know.
We never closed.
Early on during the COVID-19 pandemic, healthcare providers, including Chiropractors, were deemed "essential" and asked to remain open to serve our communities. The last thing Saint Louis needed was hundreds of chiropractic clinics closing and their clients rushing into ERs and Urgent Cares that were already overwhelmed. Thus, Lafayette Square Chiropractic Centre, LLC remained open.
Our team immediately went to work figuring out how to practice, as safely as possible, through a pandemic:
-Rearranging the office to allow for social distancing
-Obtaining personal protective equipment for our team
-Establishing stringent hand sanitization and disinfecting protocols
-Installing new air filtration systems
-Creating and posting COVID-19 protocols internally and online
-Utilizing clients' vehicles as "reception" rooms (until adjusting rooms were ready)
-Obtaining touch free thermometers for team and client temperature screenings
At one point, I remember realizing a month had gone by without a single day off. It was exhausting and yet the anxiety levels were so high it was hard to sleep. I felt like everyone I knew was operating in some type of surreal new reality.
The financial and emotional impact and losses of COVID-19 definitely took their toll on us, just as they did for countless other small business owners, locally and globally. There were days, to be honest, that I thought it would have been easier to close, at least temporarily. As an owner, there were times I wondered if our business could even survive. I feared for the physical and financial health of our team and clients. I agonized over every decision we made, hoping it was the "right" thing to do.
Yet, day after day, clients thanked us for being there. They told us how relieved they were to find an office that was accepting new clients. They expressed how much they appreciated all of our new safety procedures. They told us we made a different in their lives. We stayed open for them and they were grateful.
Today I am more proud of our LafSqChiro team than ever before. Each employee was given the option to take a hiatus, and was assured, as long as we were fiscally able, that they would have a job when they felt it was safe to return. Every single one said they were here to serve and chose to work along side us. We were a "family" before, but are now more than ever.
As I write this I think of every small business owner in this neighborhood who has navigated impossible circumstances and done their best to protect what they have built from the ground up. Each story and journey has been different. I have witnessed neighbors, clients and friends step up and focus on taking care of their teams as they figure out a way to survive this unbelievable storm.
And, while it is far from over, my hope for the future is strong. I wake each day tired, but with a renewed sense of purpose, and commitment to our mission: "Empowering YOUR family to embrace healthy, happy and active lifestyles."
If we can ever be of service please give us a call:
www.LafayetteSquareChiropractic.com
-April Breeden Peairs, LCSW, COO (6.26.2020)